How to update the firmware of the TINA2S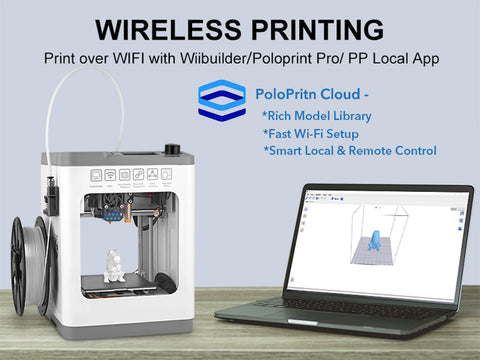 We have two apps - Poloprint Cloud and Poloprint Local App.
Poloprint Cloud- Provides thousands of online 3D models, has fast Wi-Fi Setup and smart Local & Remote control. Add academy to help you learn more about 3d printing
Download at here: https://www.wiibooxtech.com/ppcloud.html
Poloprint Local App - If you only want to use a 3D printer in your local network, and do not want any of your private data to be sent to a third party. You can use PP Local developed by us
Our app is constantly upgrading for better user experience. In order not to miss our newest functions, please update the firmware to our latest version.
How to update the firmware
Please download the latest firmware:
1) Machine Firmware
2) Wi-Fi Firmware
Then please re-name these two files, and flash the firmware, please watch the video below:
 When you update the firmware to the latest version, then you can use the Poloprint Cloud to connect the printer to Wi-Fi easily. Please watch the video below.
Please note:
Users who have registered in Poloprint pro and associated with Tina2S need to contact support@weedo3d.com to delete the printer in Poloprint pro first.

Then re register users and associated printers in the Poloprint Cloud. The mail used in Poloprint Cloud should not be same as used in Poloprint pro.
After the firmware is updated, we may encounter the situation that the printer cannot read the firmware information. When you encounter this problem, please try to restart the printer and Poloprint Cloud App
How to use PP Local App